⇐ Previous Article — Table of Contents — Next Article ⇒
New Energy Times home page
6. 15th International Conference on Emerging Nuclear Energy Systems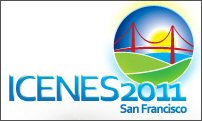 The 15th International Conference on Emerging Nuclear Energy Systems will take place May 15-19, 2011, at the Hyatt Hotel at Fisherman's Wharf in San Francisco.
ICENES has a long history as a venue for sharing ideas and research results on emerging nuclear energy technologies and applications.
The hosts of the conference are the Northern California Section of the American Nuclear Society and two ANS technical divisions: Fusion Energy Division, and Operations and Power Division.
The abstract submission deadline is Nov. 1, 2010.