Summary of Theory
Xing Zhong Li proposes a selective resonant tunneling effect, based on conventional quantum mechanics and the weak interaction to explain the three mysteries of room-temperature fusion. His theory is consistent with hot fusion experimental data (d+t, d+d, and d+3He fusion cross-sections etc.), as well, and predicts the anomalous d+d+d fusion reaction, which has been verified in experiments.
Highlights of Claims
(Courtesy Tom Dolan)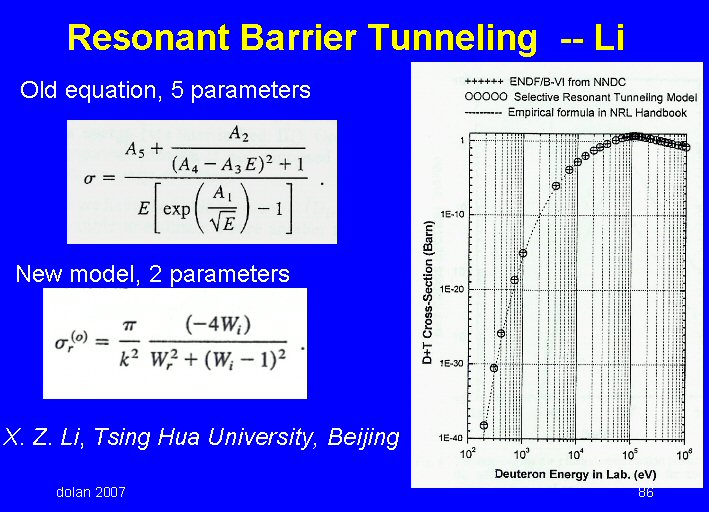 Resolution to Huizenga's "Three Miracles of Cold Fusion"

Huizenga's three miracles were:
Miracle #1: the mystery of how the Coulomb barrier is penetrated

Miracle #2: the lack of strong neutron emissions

Miracle #3: the lack of strong emission of gamma or x-rays
Resolution to Miracle #1:
Resolution to Miracle #2:
Resolution to Miracle #3:
Simple Explanation of Mechanics of Theory
Slides Presentations by Theorist
Scientific Papers

X.Z. Li, Q.M. Wei and B. Liu, An Approach to Nuclear Energy Without Strong Nuclear Radiation, in Low Energy Nuclear Reactions Sourcebook, ed. J. Marwan and S. Krivit, American Chemical Society, Oxford University Press, Washington, D.C., 2008, pp. 39-56.
X.Z. Li, Q.M. Wei and B. Liu, A new simple formula for fusion cross-sections of light nuclei, Nucl. Fusion, 2008, 48, 125003
Issued Patents

Visual Examples of Data Correspondance
Third-Party References

Citations in Other Published Papers or Books

In the News Media

Non-Reviewed Peer Responses