Summary of Theory
Talbot Chubb's theory fits in the category of ion band states. Chubb proposes a metal-catalyzed nuclear fusion theory in which deuterons (pn nuclei) diffusing through a metal encounter 10-nm domains with gem-quality lattice order and adopt the local geometry of the metal electrons.
They form spin-zero deuteron pairs neutralized by spin-zero electron pairs, which have a resonant standing-wave configuration (no Coulomb barrier).

Wavelike deuteron pairs change into wavelike helium-4 nuclei with (pn,pn) nuclear geometry. The (pn,pn) helium-4 subsequently decays to (pp,nn) helium-4, which is nuclearly stable. Energy is transferred to bulk metal electrons by multiple electron scatterings (momentum transfers) and/or lattice vibration excitations (phonons).

Back to Top
Highlights of Claims
(Courtesy Tom Dolan)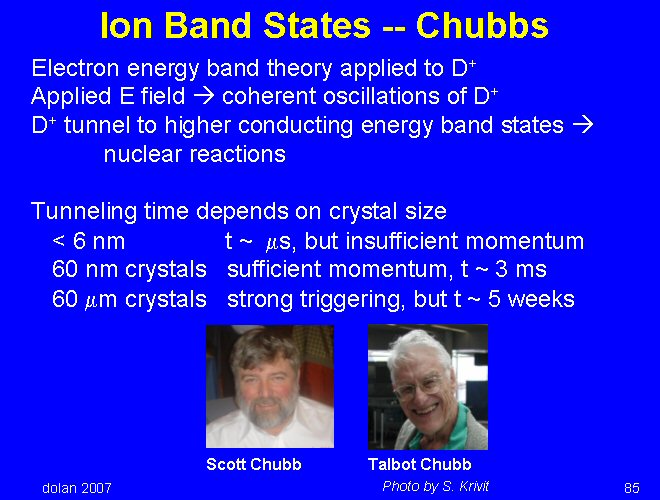 Resolution to Huizenga's "Three Miracles of Cold Fusion"

John Huizenga wrote a scathing book denouncing cold fusion research in 1993. He was a professor of chemistry and physics at the University of Rochester, a Department of Energy-funded hot fusion research laboratory. He was also chairman of the 1989 Department of Energy cold fusion evaluation panel that decided cold fusion research was not an area of science worthy of government funding. He mocked cold fusion by alluding to its unexplained characteristics as "miracles." Huizenga's three miracles were:
Miracle #1: the mystery of how the Coulomb barrier is penetrated

Miracle #2: the lack of strong neutron emissions

Miracle #3: the lack of strong emission of gamma or x-rays
Resolution to Miracle #1:
Resolution to Miracle #2:
Resolution to Miracle #3:
Simple Explanation of Mechanics of Theory
Slides Presentations by Theorist
Scientific Papers

T.A. Chubb, Catalytic Fusion and the Interface between Insulators and Transition Metals, in Proceedings of the 12th International Conference on Condensed Matter Nuclear Science, Yokohama, ed. A. Takahashi, K.-I. Ota and Y. Iwamura, World Scientific, Singapore, 2006, pp. 473-481.
Issued Patents

Visual Examples of Data Correspondance
Third-Party References

Citations in Other Published Papers or Books

In the News Media

Non-Reviewed Peer Responses